Home - Galleries - Bayou Scenes
Paradise Cove Lighthouse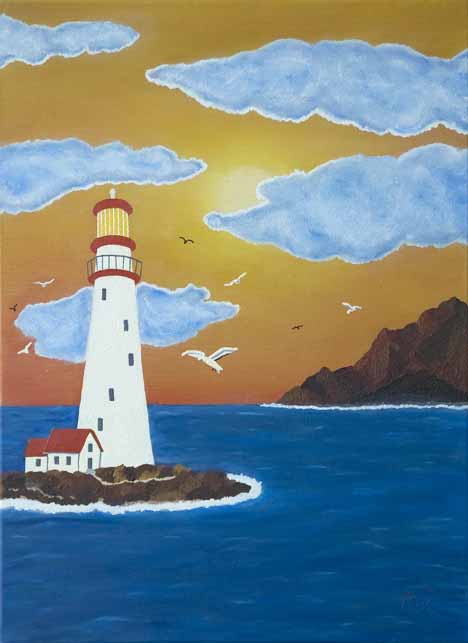 ITEM# 7760OE
Original art oil paintings - not prints, copies reproductions or giclee
PAINTING DETAILS
| | |
| --- | --- |
| Size: | 16x20 |
| Medium: | Oil |
| Support: | Stretched Canvas, Painted Sides |
| Created: | 2007 |

| | |
| --- | --- |
| Signature: | Double Signed |
| Gallery Price: | $45 |
| Certificate of Authenticity: | Included |
| Artist: | C.J. Lauterbach |
Paradise Cove Lighthouse
Lighthouses located along the shores of our country and the world inspired this painting. Once, lighthouses were vital to those who ventured out to sea. They were a beautiful sight to behold at the end of a long journey or when looking for a port in a storm. They provided vital navigational information and warned of dangerous areas. Today, lighthouses provide a romantic link to the past. They stand elegantly in their naturally scenic locations and beckoning us to come and sit for a few moments and enjoy the view.
Double-signed, A Certificate of Authenticity and Artist's Statement are also included.
Each of our paintings is an original. However, I would be happy to create a similar custom one for you.